Code Ranger portable printers are fast, lightweight, and rugged.
Code Ranger offers: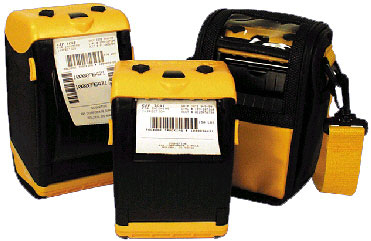 Rough and Ready
Code Rangers are heavy-duty, light-weight portable printers that can withstand a two meter drop test to concrete and still print!
Speed:
4 ips print speed
Large Media Capacity
3.125" or 2" OD media rolls, for 3x capacity of other portable printers
25,4 - 61 mm media width
Long Battery Life
The NiMH battery lasts for a full eight hour shift.
Convenience
A virtually impregnable shell and available weatherproof carrying case assure great performance in tough conditions. The sleek design and attractive colors complement environments as diverse as retail and industrial.
Very light 0.59kg weight
Modular design
Upgrade to Code Ranger plus for IrDA communications, Modular design for long product life and easy upgradeability
Ease of use:
Code Ranger's unique clamshell design makes media and battery loading easy.
View Code Ranger™ specifications.

Download the Code Ranger Datasheet (PDF 55kB)
All printers ship with free Label Design Software.
Code Ranger Price List