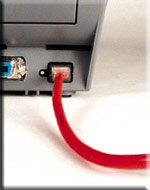 Easy Ethernet e+Solutions™ printers are the ideal choice for on-demand label printing applications in heavy-duty networking environments. Every e+Solution printer includes a built-in ethernet port for plug-and-play installation. Plus, the included inControl network printer management software makes it easy to control printers across the network.

Easy Ethernet Solutions are the Easy network
printing choice:

Free inControl network printing management
utility, with paging, e-mail, and other features

Free label design software

Free inControl Client software with graphical
error alerts

Nonvolatile label and graphic storage

Full bar code suite (with MaxiCode and PDF417)

User-uploadable fonts, PCX, and BMP graphics
3 IPS print speed

Split-second label processing

User-replaceable printhead and platen

Serial, parallel and Ethernet communication ports

Windows 95/NT drivers
e+Solutions include Blaster Advantage and Del Sol series printers in 2", 4", DT and TT/DT printer models

Features

inControl Client resolves common issues

inControl Enterprise Console enables management of all printers across the LAN or WAN

Download the e-Solution Datasheet (PDF 90kB)
All printers ship with free Label Design Software.